Gala Bingo 12 Days of Christmas Kindness...
Today, we would like to do something extra special. We want to help a little boy learn to walk on his own.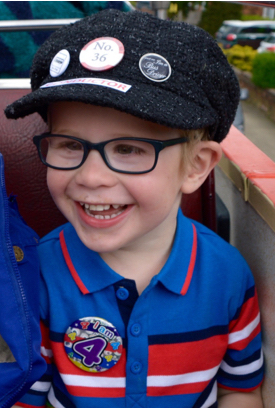 Noah is 4 years old and was diagnosed with a rare neuro condition called Cerebellar Hypoplasia, which has left him unable to walk, communicate and co-ordinate fine motor tasks. Noah was supposed to start school in September 2017 but his mum and dad have delayed his start date until September 2018 in the hope that his mobility and communication will have improved to equip him better for the demands of mainstream school. Thankfully, with a lot of hard work, Noah's condition is an improving one. But he really needs the right equipment to give him the best possible chance.
At a recent Physiotherapy session in an assessment centre, Noah tried using some parallel walking bars, which support him in a standing position, moving forwards and sidewards, and they were so motivational for Noah in his quest for walking. Sadly, he only attends the centre twice a year so would really benefit from having some at home to be able to practice standing and walking on a daily basis.
We want to make sure Noah can use these bars as often as he likes. So for Christmas this year, 52 Lives and Gala Bingo will be buying Noah his own set to have at home and nursery school.
We also want to help Noah improve his communication. At the moment, it's so frustrating for him to not be able to make choices independently. His mum has developed a communication folder at home using symbols and pictures, but there's a special piece of software available to buy, which would enable her to access 1000's of symbols to produce templates and worksheets for school in the future to make life even easier for them as a family. 52 Lives and Gala Bingo will also be buying this communication software for Noah.
We wish Noah and his family a very Happy Christmas!